Burma Shave
Most early boomers remember Burma Shave, but probably more for the signs than the actual product. Those family road trips weren't quite as boring if you could spot that first one liner, and then watch for the punch line a few signs later!
History
So who knew what Burma Shave really was? A brush-less shaving cream first introduced in 1925 by the Burma-Vita Company in Minneapolis. But sales were slow early on, and the only way to perk them up was by advertising. A young man by the name of Allan Odell convinced his father Clinton (who owned the company) that roadside advertising was the way to go, coinciding with the early popularity of the automobile. The campaign succeeded, ultimately pushing Burma Shave to the second best selling shaving cream at its peak.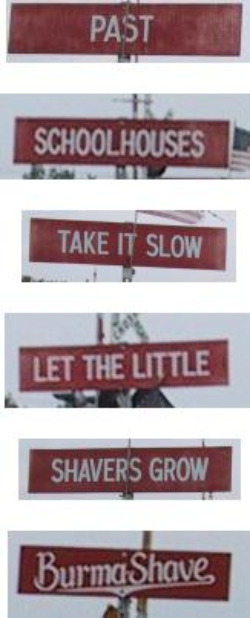 In place generally from 1926 until 1963 in most states around the country, Burma Shave signs advertised the product by making fun of Grandpa's old fashioned shaving cream that still needed a brush. Over the years, some of the signs went beyond just advertising the product, taking on a public interest by encouraging safe driving, but always with clever humor and rhymes. Allan wrote most of the early signs himself, but soon the family started offering cash prizes up to $100 for others to submit their own home-spun messages.
The advent of the interstate highway system in the 1950s would make it a lot tougher for small signs to catch the eye of drivers now going faster. When Burma-Vita was acquired by Phillip Morris in 1963, the signs were discontinued on the advice of legal counsel. But at the height of their popularity, there were some 600 Burma Shave messages displayed on 7000 signs across the country, and the signs were changed out once a year by a sign crew operating with just eight trucks. As one sign aptly put it, "If You Don't Know / Whose Signs / These Are / You Can't Have / Driven Very Far".
Sign Posts
Some of the jingles simply advertised the original product:
Relief for faces / Chapped and sore / Keeps 'em comin' / Back for more / Burma Shave
Big blue tube / It's a honey / Best squeeze play / For love / Or money / Burma Shave
Soap / May do / For lads with fuzz / But sir, you ain't / The kid you wuz / Burma Shave
When you lay / Those few cents down / You've bought the smoothest / Shave in town / Burma Shave
Men who / Have to / Travel light / Find the 35 cent tube / Just Right / Burma Shave
A shave / That's real / No cuts to heal / A soothing / Velvet after-feel / Burma Shave
Other jingles advertised a new addition to their product line:
For early / Morning / Pep and bounce / A brand new / Product / We announce / Burma Shave Lotion
Use Burma Shave / In tube or jar / Then follow up / With our new star / Burma Shave Lotion
It has a tingle / And a tang / That starts / The day off / With a bang / Burna Shave Lotion
His face / Was smooth / And cool as ice / And oh! Louise! / He smelled so nice / Burma Shave Lotion
Many of the jingles pushed the product to improve one's love life:
The wife / who keeps on / Being kissed / Always heads / Her shopping list / Burma Shave
I know / He's a wolf / Said Red Riding Hood / But Grandma dear / He smells so good / Burma Shave
Unless / Your face / Is stinger free / You'd better let / Your honey be / Burma Shave
A chin / Where barbed wire / Bristles stand / Is bound to be / A no ma'ams land / Burma Shave
We can't / Provide you / With a date / But we do supply / The best darn bait / Burma Shave
My cheek / Say she / Feels smooth as satin / Ha! Ha! says he / That's mine you're pattin' / Burma Shave
A beard / That's rough / And overgrown / Is better than / A chaperon / Burma Shave
These signs / We gladly / Dedicate / To men who've had / No date of late / Burma Shave
To steal / A kiss / He had the knack / But lacked the cheek / To get one back / Burma Shave
If Crusoe'd / Kept his chin / More tidy / He might have found / A lady Friday / Burma Shave
If harmony / Is what / You crave / Then get / A tuba / Burma Shave
He asked / His kitten / To pet and purr / She eyed his puss / And screamed / "What fur!" / Burma Shave
This cream / Makes the / Gardener's daughter / Plant her tu-lips / Where she oughter / Burma Shave
The hero / Was brave and strong / And willin' / She felt his chin / Then wed the villain / Burma Shave
Grandpa knows / It ain't too late / He's gone / To git / Some widder bait / Burma Shave
A Christmas hug / A birthday kiss / Awaits / The woman / Who gives this / Burma Shave
Ben / Met Anna / Made a hit / Neglected beard / Ben-Anna split / Burma-Shave
As a company, Burma Shave seemed to appreciate its position along the side of the road, and hence a responsibility to promote safe driving (you don't see a lot of billboards doing that today!):
Better try / Less speed per mile / That car / May have to / Last a while / Burma Shave
Spring / Has sprung / The grass has riz / Where last year's / Careless drivers is / Burma Shave
Proper / Distance / To him was bunk / They pulled him out / Of some guy's trunk / Burma Shave
A guy / Who drives / A car wide open / Is not thinkin' / He's just hopin' / Burma Shave
On curves ahead / Remember, sonny / That Rabbit's foot / Didn't save / The bunny / Burma Shave
Her chariot / Raced 80 per / They hauled away / What had / Ben Hur / Burma Shave
Altho insured / Remember, kiddo / They don't pay you / They pay / Your widow / Burma Shave
The safest rule / No ifs or buts / Just drive / Like everyone else / Is nuts! / Burma Shave
Don't / Try passing / On a slope / Unless you have / A periscope / Burma Shave
Passing cars / When you can't see / May get you / A glimpse / Of eternity / Burma Shave
If daisies / Are your / Favorite flower / Keep pushin' up those / Miles per hour / Burma Shave
Thirty days / Hath September / April, June / And the speed offender / Burma Shave
Angels who guard you / When you drive / Usually retire / At sixty-five / Burma Shave
You can drive / A mile a minute / But there is no / Future in it / Burma Shave
In fact, some of the messages took particular aim at driving while intoxicated: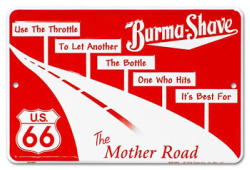 Violets are blue / Roses are pink / On graves / Of those / Who drive and / Drink / Burma Shave
Drinking drivers / Nothing worse / They put / The quart / Before the hearse / Burma Shave
The one who / Drives when / He's been drinking / Depends on you / To do his thinking / Burma Shave
The midnight / Ride of Paul / For beer / Led to a warmer / Hemisphere / Burma Shave
Car in ditch / Man in tree / Moon was full / So was he! / Burma Shave
Other messages encouraged both hands on the wheel while driving:
If hugging on highways / Is your sport / Trade in your car / For a davenport / Burma Shave
If you must test / Her pucker paint / Be sure to drive / Where traffic ain't / Burma Shave
They missed the turn / The car went whizzin' / The fault was hern / The funeral hisn / Burma Shave
A nut at the wheel / A peach on his right / A curve in the road / Fruit salad that night / Burma Shave
Don't put your arm out / Quite so far / It might go home / In another car / Burma Shave
A few messages urged fire prevention and awareness:
The blackened forest / Smolders yet / Because / He flipped / A cigarette / Burma Shave
Many a forest / Used to stand / Where a / Lighted match / Got out of hand / Burma Shave
He lit a match / To check gas tank / That's why / They call him / Skinless Frank / Burma Shave
Readers could find references to the military, especially applicable during the war years:
We've made / Grandpa / Look so trim / The local / Draft board's after him / Burma Shave
Five star / Generals / Privates first class / Show equal rank / In the looking glass / Burma Shave
He tried / To cross / As fast train / Neared / Death didn't draft him / He volunteered / Burma Shave
She put / A bullet / Thru his hat / But he's had / Closer shaves than that / Burma Shave
Always in good taste, some messages mixed humor with a bit more color:
Substitutes / Can let you down / Quicker /Than a / Strapless gown / Burma Shave
Substitutes / Are like a girdle / They find some jobs / They just / Can't hurdle / Burma Shave
His crop of / Whiskers / Needed reaping / That's what kept / His Lena leaping / Burma Shave
Ultimately, roadside advertising for Burma Shave became so successful that the signs themselves almost seemed more important than the product they advertised:
We're widely read / And often quoted / But it's shaves / Not signs / For which we're noted / Burma Shave
Another / Red skin / Bit the dust / When Pa tried / What these signs discussed / Burma Shave
Our fortune / Is your / Shaven face / It's our best / Advertising space / Burma Shave
These signs / Are not / For laughs alone / The face they save / May be your own / Burma Shave
Slow down, Pa / For sakes alive / Ma missed signs / Four and five / Burma Shave
Listen birds / These signs cost money / You can rest awhile / But don't get funny / Burma Shave
And finally, when the signs had run their course, perhaps the most poignant message of all:
Farewell O verse / Along the road / How sad to see / you're out of mode / Burma Shave
Return from Burma Shave to Nostalgia