TV History
Modern TV history began with an item in the newspaper. On April 19, 1938, the New York Times ran an article announcing that "A regular television schedule of five hours a week, for at least a month, begins today under the auspices of the National Broadcasting Company."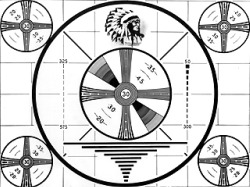 Programs could be received in the New York metro area within a 50-mile radius of television aerials mounted on top of the Empire State Building. That five-hour weekly schedule was actually one hour of live talent and films aired from 8 to 9 PM on both Tuesday and Thursday nights, while the other three hours were only still pictures and charts broadcast from 3 to 4 PM on Tuesday, Wednesday and Thursday afternoons so engineers could study the actual transmissions.
The next milestone in early TV history was the 1939 World's Fair, when RCA introduced 9" and 12 " sets together with sound, selling for about $600 each. Audiences grew slowly at first, with only about 2000 sets in use by April 1940. Production of all television sets and equipment came to a halt during the war years (1942-45), but resumed in 1946. By the late 40s, RCA and other manufacturers began mass production of TV sets, and by the end of 1950 there were over 8 million sets in the US alone.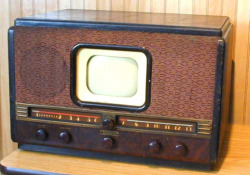 Not everyone predicted the success of television the way that RCA and its president at the time, David Sarnoff, did. In 1946, the head of 20th Century Fox Movies, Darryl F. Zanuck, was quoted as saying, "Television won't be able to hold on to any market it might capture after the first six months. People will soon get tired of staring at a plywood box every night."
Well, perhaps Mr. Zanuck underestimated what would ultimately develop inside that plywood box. Over seventy years later, we're still staring - and still making TV history!


TV History - Highlights from the 40s and 50s
NBC broadcasts the first hour-long music variety show, "Hourglass", over three stations in New York City, Philadelphia, and Schenectady, on May 9, 1946.




140,000 people watch the first televised heavyweight fight between Joe Louis and Billy Conn on June 19, 1946.

The Dumont Network broadcast the first soap opera, aptly named "Faraway Hills", on October 2, 1946.

In 1947, radios (40 million) far outnumber TV sets (44,000) in the US.

First telecast of a World Series game - New York Yankees vs. the Brooklyn Dodgers - airs on September 30, 1947.

Harry Truman is the first American president in TV history to appear live from the White House, discussing the international food crisis, on October 5, 1947.

Television's longest running show, "Meet the Press", premiers on a local NBC station in Washington, DC on November 6, 1947, and goes nationwide two weeks later.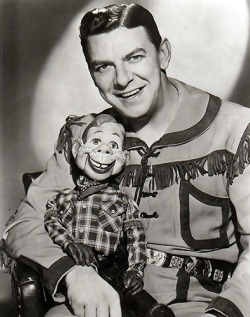 "Howdy Dowdy Time" premiers on December 29, 1947, and in 1949 its merchandise sales top $11 million.

In 1948, only one in every ten Americans had ever seen a TV set.




"I Love Lucy" premiers on October 15, 1951, and is seen in a record 10.6 million house- holds by April, 1952.

The FCC approves UHF channels 14 thru 83 on April 14, 1952.




While its technical standards were approved by the FCC in 1953, color television didn't become profitable until the early 60s.

In April 1954, RCA begins selling its Model CT-100 color TV set for $1000 each; sales increase from just under 5000 in 1954 to 20,000 in 1955.

"Gunsmoke" premiers on September 10, 1955, beginning a twenty year run.

The "Mickey Mouse Club" (on ABC) and "Captain Kangaroo" (on CBS) each premier on October 3, 1955.

The soap opera "As the World Turns" premiers on April 2, 1956.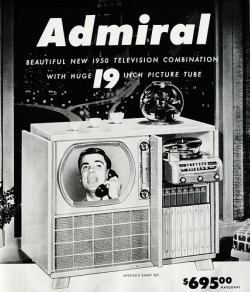 By 1957, over 40 million homes in the US have at least one television set.

"Perry Mason" (September 21) and "Leave It to Beaver" (October 4) each premier in 1957.

"The Twilight Zone" on CBS premiers on October 2, 1959.
So, TV history was made during the 50s decade, transforming entertainment in American households from radio to that new "plywood box" that everyone would stare at! In a sense, we boomers were all a part of TV history - how old were you when you first started watching? And needless to say, the transition to the sixties was pretty seamless!

TV History - Highlights from the 60s
By 1960, 87% of all households in the US had a TV set (up from only 9% in 1950).

New technology brought us the remote control (1960), ultimately replacing us children as the channel changers (remotes were fully authorized by the FCC in 1963).

Newsman Edward R. Murrow brought the practice of investigative journalism to television news (1960), ironically on his last program when "Harvest of Shame" (the plight of Florida migrant workers) was aired.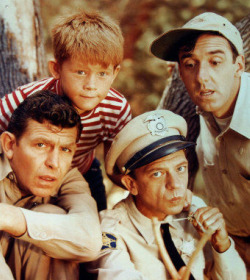 "The Andy Griffith Show" began its eight year run (1960), making Don Knotts and Ron Howard big stars.

"The Flintstones" (1960-66) became the first prime time cartoon show in TV history, and two years later became one of the first series to begin broadcasting in color.

Color television first became popular (1961), when "The Wonderful World of Disney" changed its name to "The Wonderful World of Color". But it would be another five years before network TV began broadcasting all color in prime time.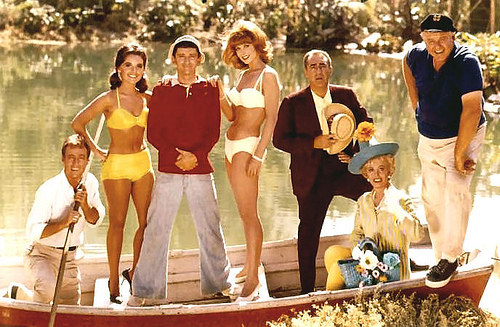 FCC Chairman Newton Minow (1961) called television in America "a vast wasteland" in a speech urging stronger regulations. That same day, Vice President Hubert Humphrey called TV "the greatest single achievement in communication that anybody or any area of the world has ever known." Minow's "wasteland" comment was ridiculed by the TV industry at the time, and even prompted the sunken travel ship on Gilligan's Island to be named after him---the "SS Minnow".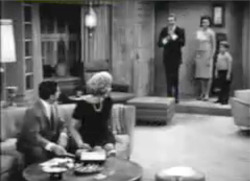 "The Dick Van Dyke Show" began a six-year run (1961), despite being canceled by CBS after its very first year (re-instated after the producer secured his own sponsors). Other new shows that year included "Ben Casey" (1961-66) and "Hazel" (1961-66).

Jack Paar hosted his final "The Tonight Show" (1961), before Johnny Carson began a thirty-year run as host the following year (1962-92).

Millions watched televised coverage of Martin Luther King delivering his "I Have A Dream" speech (1963).

Network television news covered the events surrounding the assassination of President Kennedy and subsequent funeral (1963), followed days later by a live broadcast on NBC when Jack Ruby fatally shot assassin Lee Harvey Oswald during transport by lawmen in Dallas.

A national poll (1963) found that more Americans preferred television news (36%) over newspapers (24%) as a reliable source of information.

Instant replay came to televised sports for the first time in TV history (1963) when featured in an Army-Navy football game, and was standard practice the following year.

Several new shows began multi-year runs (1963), including "Let's Make A Deal" (1963-76), "The Fugitive" (1963-87), and "Mutual Of Omaha's Wild Kingdom" (1963-88).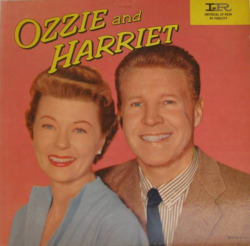 "Bewitched" became an instant hit (1964), starting an eight year run. Other long running shows were renewed that same year, including "Walt Disney's Wonderful World of Color" after its 11th year, "Ozzie and Harriet" as well as "I've Got A Secret" after their 13th years, "Red Skelton" after its 14th year, and "The Ed Sullivan Show" after its 17th year.

Nearly a million homes in the US were wired for cable TV (1964), prompting the FCC to begin regulating it.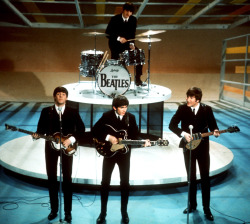 Some 73 million viewers watched the beginning of the British invasion on national television (1964) - the Beatles performing on "The Ed Sullivan Show".

NBC started calling itself "the full color network" (1965), as nearly all of its prime time schedule was broadcast in color.

The "Peanuts" comic strip by Charles Schulz was animated for the first time (1965), when "A Charlie Brown Christmas" was aired and received a 50 share that evening.

"Star Trek: The Original Series" (1966-69) began a short-lived run, falling victim to low ratings, poor funding, and a Friday night "death slot" in its third and final year.

"The Smothers Brothers Comedy Hour" (1967-69) best epitomized the counter-culture movement of the sixties, dealing with drugs, Viet Nam, politics and other topics, as the brothers and even some of their guests continually battled CBS censors. For example, Pete Seeger was barred from performing his anti-war song "The Big Muddy" (1967), although the censors did allow it a year later. The show brought stardom to Steve Martin, Rob Reiner and Sally Struthers (later Mike and Gloria on "All In The Family"), Pat Paulsen, and Don Novello (Father Guido Sarducci), among others.

President Johnson signed a bill authorizing the corporation for public broadcasting (1967). First known as National Education TV (NET) with 70 stations nationwide, it was replaced two years later by the Public Broadcasting System (PBS), but its federal funding remained an annual topic of discussion in Congress.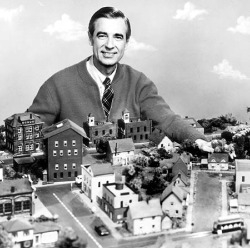 "Mr. Rogers" (1967-2001) began its long run starting on the NET with "Mr Rogers Neighborhood", featuring the soft spoken Presbyterian minister Fred McFeely Rogers. Sesame Street launched two years later (1969) and became one of the most influential children shows ever.

"The Phil Donahue Show" (1967-1996) began its long run, premiering first on the Crosley Broadcast Network in Dayton, Ohio before gaining national syndication (1970) and moving to Chicago (1974).

The National Association of Broadcasters (NAB) sponsored a public opinion survey in which 63% of the participants expressed a preference for television without commercials (1967).

The NAB increased its scrutiny of violence in television shows (1968) following the assassinations of Robert F. Kennedy and Martin Luther King Jr.

"Rowan & Martin's Laugh-In" (1968-73) was an instant hit with its fast paced humor, slapstick, and iconic one-liners. The show brought stardom to many of the cast members, including Flip Wilson, Goldie Hawn, Judy Carne, Lily Tomlin, Arte Johnson, Henry Gibson, and others.




"Sixty Minutes" (1968) began its run as the longest running prime time show in TV history---now over forty-five years.

"The Brady Bunch" (1969-74) began its run as the show considered most opposite from the counter-culture movement of the sixties.

"Hee Haw" (1969-93) made a twenty year run in syndication, appealing to an older and less progressive demographic of the country.

"Love American Style" (1969-74) was considered a collection of mostly failed sitcom pilots, but did spawn the seventies TV hit "Happy Days".

Millions watched Neil Armstrong make TV history when he took "one small step for man, one giant leap for mankind" on live television when he became the first man to walk on the moon (1969).

The FCC banned cigarette ads from television and radio (1969), after it was determined that smoking was indeed hazardous to one's health. Tobacco companies agreed to the prohibition for fear of greater restrictions that Congress could have imposed.



TV History