Fifties Television
When baby boomers think of fifties television, we'd like to believe that television got started the same time we did---in the early fifties. Truth is, while television did "boom" in the early fifties right along with our birth rates, the real roots of fifties television were actually planted in the late 30s.
Roots of Fifties Television
On April 19, 1938, the New York Times ran an article announcing that "A regular television schedule of five hours a week, for at least a month, begins today under the auspices of the National Broadcasting Company." Programs could be received in the New York metro area within a 50-mile radius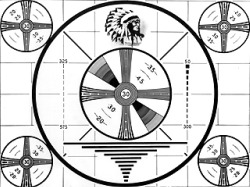 of television aerials mounted on top of the Empire State Building. That five hour weekly schedule was actually one hour of live talent and films aired from 8 to 9 PM on both Tuesday and Thursday nights, while the other three hours were only still pictures and charts broadcast from 3 to 4 PM on Tuesday, Wednesday, and Thursday afternoons so engineers could study the actual transmissions.
The next milestone for early television was the 1939 World's Fair, when RCA introduced 9" and 12 " sets together with sound, selling for about $600 each. Audiences grew slowly at first, with only about 2000 sets in use by April 1940. Production of all television sets and equipment came to a halt during the war years (1942-45), but resumed in 1946. By the late 40s, RCA and other manufacturers began mass production of TV sets, and by the end of 1950 there were over 8 million sets in the US alone.
Not everyone predicted the success of television the way that RCA and its president at the time, David Sarnoff, did. In 1946, the head of 20th Century Fox Movies, Darryl F. Zanuck,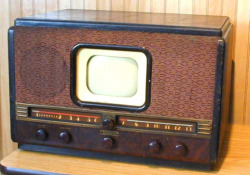 was quoted as saying, "Television won't be able to hold on to any market it might capture after the first six months. People will soon get tired of staring at a plywood box every night." Well, perhaps Mr. Zanuck underestimated what would ultimately develop inside that plywood box! Seventy years later, we're still staring!
Highlights for fifties television:
So, fifties television really began to flourish during the decade, transforming entertainment in American households from radio to that new "plywood box" that everyone would stare at! You remember fifties television---how old were you when you first started watching?
Top Rated Shows
Fifties Television/October 1950 - April 1951 season:
Texaco Star Theatre
Fireside Theatre
Philco TV Playhouse
Your Show of Shows
The Colgate Comedy Hour
Gillette Cavalcade of Stars
The Lone Ranger
Arthur Godfrey's Talent Scouts
Hopalong Cassidy
Mama
Robert Montgomery Presents
Martin Lane, Private Eye
Man Against Crime
Kraft Televison Theatre
The Toast of the Town
Fifties Television/October 1951 - April 1952 season:
Arthur Godfrey's Talent Scouts
Texaco Star Theatre
I Love Lucy
The Red Skelton Show
The Colgate Comedy Hour
Arthur Godfrey and His Friends
Fireside Theatre
Your Show of Shows
The Jack Benny Show
You Bet Your Life
Mama
Philco TV Playhouse
Amos 'N Andy
Gangbusters
Big Town
Fifties Television/October 1952 - April 1953 season:
I Love Lucy
Arthur Godfrey's Talent Scouts
Arthur Godfrey and His Friends
Dragnet>/li
Texaco Star Theatre
The Buick Circus Hour
The Colgate Comedy Hour
Gangbusters
You Bet Your Life
Fireside Theatre
The Red Buttons Show
The Jack Benny Show
Life With Luigi
Pabst Blue Ribbon Bouts
Goodyear TV Playhouse
Fifties Television/October 1953 - April 1954 season:
I Love Lucy
Dragnet
Arthur Godfrey's Talent Scouts
You Bet Your Life
The Chevy Show (Bob Hope)
The Milton Berle Show
Arthur Godfrey and His Friends
The Ford Show
The Jackie Gleason Show
Fireside Theatre
The Colgate Comedy Hour
This Is Your Life
The Red Buttons Show
The Life of Riley
Our Miss Brooks
Fifties Television/October 1954 - April 1955 season:
I Love Lucy
The Jackie Gleason Show
Jackie Gleason Show
Dragnet
You Bet Your Life
The Toast of the Town
Disneyland
The Chevy Show (Bob Hope)
The Jack Benny Show
The Martha Raye Show
The George Gobel Show
Ford Theatre
December Bride
Buick-Berle Show
This Is Your Life
I've Got A Secret
Fifties Television/October 1955 - April 1956 season:
The $64,000 Question

I Love Lucy
The Ed Sullivan Show
The Jackie Gleason Show
Disneyland
The Jack Benny Show
December Bride
You Bet Your Life
Dragnet
The Millionaire
I've Got A Secret
General Electric Theatre
Private Secretary
Ford Theatre
The Red Skelton Show
The George Gobel Show
Fifties Television/October 1956 - April 1957 season:
I Love Lucy
The Ed Sullivan Show
General Electric Theatre
The $64,000 Question
December Bride
Alfred Hitchcock Presents
I've Got A Secret
Gunsmoke
The Perry Como Show
The Jack Benny Show
Dragnet
Arthur Godfrey's Talent Scouts
The Millionaire
Disneyland
The Red Skelton Show
Fifties Television/October 1957 - April 1958 season:
Gunsmoke
The Danny Thomas Show
Tales of Wells Fargo
Have Gun Will Travel
I've Got A Secret
The Life and Legend of Wyatt Earp
General Electric Theatre
The Restless Gun
December Bride
You Bet Your Life
The Perry Como Show
Alfred Hitchcock Presents

Cheyenne
The Ford Show
The Red Skelton Show
The Gale Storm Show
The Millionaire
The Lineup
This Is Your Life
The $64,000 Question
Zane Grey Theatre
Lassie
Wagon Train
Sugarfoot
Father Knows Best
Fifties Television/October 1958 - April 1959 season:
Gunsmoke
Wagon Train
Have Gun Will Travel
The Rifleman
The Danny Thomas Show
Maverick
Tales of Wells Fargo
The Real McCoys
I've Got A Secret
The Life and Legend of Wyatt Earp
The Price Is Right
The Red Skelton Show
Zane Grey Theatre
Father Knows Best
The Texan
Wanted: Dead or Alive
Peter Gunn
Cheyenne
Perry Mason
The Ford Show
Sugarfoot
The Ann Southern Show
The Perry Como Show
Alfred Hitchcock Presents
Name That Tune
Fifties Television/October 1959 - April 1960:
Gunsmoke
Wagon Train
Have Gun Will Travel
The Danny Thomas Show
The Red Skelton Show
Father Knows Best
77 Sunset Strip
The Price Is Right
Wanted: Dead Or Alive
Perry Mason
The Real McCoys
The Ed Sullivan Show
The Bing Cosby Show
The Rifleman
The Ford Show
The Lawman
Dennis The Menace
Cheyenne
Rawhide
Maverick
The Life and Legend of Wyatt Earp
Mr. Lucky
Zane Grey Theatre
General Electric Theatre
The Ann Southern Show
Return from Fifties Television to Fifties Sixties Nostalgia
Return from Fifties Television to Baby Boomers R We