History of Rock n Roll
The history of rock n roll is closely tied with the evolution of music radio during the 1940s and 50s, and even before that, with the invention and development of the machines and instruments that could play music for entertainment before the dawn of the 20th century.
Interestingly enough, the origins of the phrase "rock and roll" were nautical (the movements of a ship on the ocean), long before they became musical. But gospel spirituals in the 1800s used this very phrase to describe the loving embrace of the Christian God. And over the decades following, the phrase found its way into other forms of music, particularly rhythm & blues, swing, and jazz, and later of course, the dance form so familiar to us boomers.
History of Rock N Roll - pre-20s:
In 1877, Thomas Edison invented a coin-operated phonograph that would play music from a wax cylinder (about the size of an empty toilet paper tube).

In 1887, Emile Berliner invented a flat recording disc (about the thickness of a china plate) that played music between 75 and 80 revolutions per minute (RPMs); by 1910, the disc size used most often was 10".
History of Rock N Roll - the 20s
In 1920, the first radio station to hold a commercial license began AM broadcasting from Pittsburgh Pennsylvania, with the call letters KDKA (owned by Westinghouse).

In 1925, the standard for record RPMs was set at 78 so that different phonograph machines could play recorded music; hence early records were known as "78s". Since the 10" record only had room for about three minutes of sound on each side, popular songs were recorded to fit the 3-minute time constraint.
Several records in the earliest history of rock n roll - well prior to the fifties - used the words "rock" and "roll" in their titles:

"My Daddy Rocks Me (With One Steady Roll)", by Trixie Smith (1922)
"Detroit Rocks", by Montana Taylor (1929)
"Rocking and Rolling", by Robinson's Knights of Rest (1930)
"Rockin' In Rhythm", by Duke Ellington (1931)
"Rock It For Me", by Chick Webb with Ella Fitzgerald (1938)
"Rock Me in the Groove", by Sweet Georgia Brown (1941)
"I Want to Rock", by Cab Calloway (1942)
"The Boogie Rocks", by Albert Ammons (1944)
In 1927, Automated Musical Instruments developed an electric amplifier for the phonograph, enabling a larger group of people in the same place to hear music played. Doing so made these music machines immediately popular in the speakeasies of the Prohibition era (underground bars and saloons that would serve liquor despite the prohibitions of federal law at the time).
History of Rock N Roll - the 30s
The term album originated from the 1930s when recording companies, wanting to distribute several songs from the same artist together at one time, used three or four 78s, recorded one song on each side for a total of six to eight songs, and inserted each record into a paper sleeve for bundling between two covers.
During the 1930s, coin-operated phonographs became popular in virtually all restaurants and bars as a cheap form of entertainment during the Depression years (Prohibition ended in 1933 when Congress passed the 21st Amendment). By 1940, these music machines became known as "juke boxes" often found in "juke joints" (the word "juke" or "joog" was a term taken from the African language Gullah which meant disorderly, rowdy or wicked).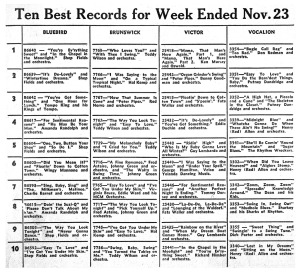 In 1932, George Beauchamp and Adolph Rickenbacker developed and marketed the first electric guitar in the history of rock n roll.

On January 4, 1936, Billboard Magazine began its practice of charting the most popular songs each week based upon record sales across the country.
History of Rock N Roll - the 40s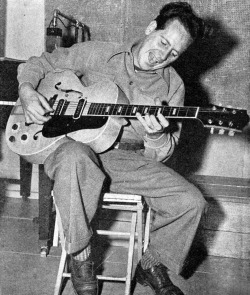 Emanating from the 40s, rhythm and blues (R&B) was a popular style of African American music described as "urbane, rocking, jazz-based music with a heavy, insistent beat", that contributed significantly to the history of rock n roll in the 50s.

"Doo-wop" was another style of African American music coming out of the 40s that gained mainstream popularity in the 50s, also affecting the subsequent history of rock n roll.

In 1941, Les Paul - dissatisfied with earlier models - designed and produced his own electric guitar (years later, his solid body electric guitars were used by history of rock n roll legends Paul McCartney, Eric Clapton, Duane Allman, Mike Bloomfield and others).

In 1948, Columbia Records introduced a 12" long play (LP) vinyl record that played up to 25 minutes per side at 33 1/3 RPMs; in 1949, RCA Victor introduced a 7" vinyl record that played up to eight minutes per side at 45 RPMs.

In 1949, Billboard magazine started to chart rhythm and blues (R&B) records.
History of Rock N Roll - the 50s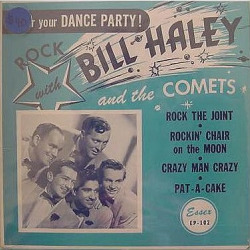 The term "rock 'n' roll" was effectively popularized in 1951 by an up and coming disc jockey in Cleveland. Giving himself the nickname "Moondog", Alan Freed labeled his radio program on WJW as "Moondog Rock 'n' Roll Party". It's not clear whether any one particular song, or some combination of songs and/or events, prompted Freed to coin the phrase "rock 'n' roll" in the early fifties. But few would ever argue that "rock 'n' roll is here to stay" after Freed introduced "Rock Around the Clock" by Bill Haley and the Comets on radio station WINS (New York) in 1954, and the song became a national hit a year later when it was featured in the movie "The Blackboard Jungle" (1955).
During the 50s', record producer and former talent scout/DJ Sam Phillips contributed significantly to the history of rock n roll, discovering young talents such as Elvis Presley and Johnny Cash. Phillips owned his own label, Sun Records, and once said, "The blues, it got people - black and white - to think about life, how difficult, yet also how good it can be. They would sing about it; they would pray about it; they would preach about it. This is how they relieved the burden of what existed day-in and day-out." (quoted from Eric P. Olsen, "Founding Father: Sam Philips and the Birth of Rock and Roll." The World and I. Washington, May 2001. P. 76)
During the 1950s, 45 RPM records helped the surge of juke boxes coming into use, since the vinyl 45s were stronger and smaller discs than the older 78s; juke boxes could then hold up to 200 songs, as opposed to a maximum 40 songs on 78s.
In 1951, "Rocket 88" was recorded and released, first by Ike Turner in Memphis and three months later by Bill Haley and the Saddlemen - later known as the Comets. While disagreeing over which version had the greater impact, music historians concur that "Rocket 88" was the first "prototype" rock song ever produced in the history of rock n roll.

In 1952, the Moondog Coronation Ball was the first ever major concert in the history of rock n roll. Organized by Alan Freed among others and held in the Cleveland Arena, it was shut down after the first act due to overcrowding concerns (the 20,000 people attending was double the arena capacity).

In 1953, "Crazy Man, Crazy" by Bill Haley and the Comets was the first song in the history of rock n roll to make the Billboard charts, peaking at #12 for the week ending June 20th.

By 1954, radio titans Todd Storz (KOWH in Omaha, WTIX in New Orleans, and WHB in Kansas City) and Gordon Mclendon (KLIF, the Mighty 1190 in Dallas) brought the Top 40 radio format, i.e., the forty most popular songs based upon record sales each week, to the radio stations each of them owned. In following years, Storz - known as the father of the Top 40 format - bought radio stations WAZY-A/F in Lafayette, Indiana, KXOK in St. Louis, WDGY in Minneapolis, WQAM in Miami and KOMA in Oklahoma City, to all carry that format.

In 1954, TTK Corporation in Japan began mass distribution of the transistor radio, known as Sony, (from the Latin word "sonus" which means "sound"), and became so popular that TTK renamed itself Sony four years later.

In 1956, RCA Records released "Heartbreak Hotel" by Elvis Presley, which became his first #1 pop hit and kicked off his career.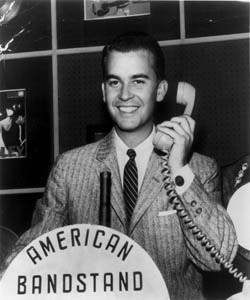 In 1957, American Bandstand made its debut on national television with 27-year old Dick Clark as emcee (Bandstand had been televised locally in Philadelphia since 1952).

In 1958, Billboard begins its Hot 100 record singles popularity chart - based upon radio airplay and record sales - on August 4th ; the first #1 ranked song on this chart was "Poor Little Fool" by Ricky Nelson.

In 1959, February 3rd became a day infamous in the history of rock n roll, i.e., "the day the music died" when Buddy Holly, Richie Valens and J.P. "The Big Bopper" Richardson died in a small plane crash near Clear Lake, Iowa (this date was later popularized by Don Mclean in his song "American Pie" - a #1 hit in 1972).
History of Rock N Roll - the 60s
In some respects, early sixties music was a carryover for the history of rock n roll, together with rhythm and blues, and doo wop songs of the fifties. Fifties recording artists such as Elvis Presley (just back in 1960 from serving two years in the army), Bobby Darin, Ray Charles, Bobby Rydell, Brenda Lee, the Everly Brothers, and others still had success in sixties music. In 1960, Chubby Checker popularized "The Twist" dance craze, and Ray Charles recorded his first album that included two of his greatest hits from the late fifties - "Hit the Road Jack" and "Georgia On My Mind". But as we boomers became teenagers in the sixties, we remember the British invasion in 1964, the onset of the war in Viet Nam, and the drug culture prompting the works of such groups as the Beatles, Rolling Stones, the Doors, Jimi Hendrix, Janis Joplin, Jefferson Airplane, Grateful Dead, Sly and the Family Stone, and so many others. Sixties music mirrored our lives.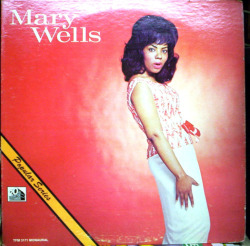 The Federal Communications Commission approved FM stereo broadcasting, giving sixties music that platform for the first time

Soul became a key component of sixties music, emerging from a mix of gospel and rock, and prompting Berry Gordy to open a recording studio in Detroit initially known as Tamla Records (1959) and a year later renamed Motown. Over the next years, Motown Records would chart 110 Billboard top-ten hits, having signed such artists as Stevie Wonder, The Supremes, The Shirelles, The Miracles, Marvin Gaye, The Four Tops, The Temptations, Gladys Knight and the Pips, and the Jackson Five, among others.

in the history of rock n roll (1961).

Bob Dylan began playing protest folk music in Greenwich Village, following his visits to a terminally ill Woody Guthrie whom he idolized (1961).

First known as The Quarrymen (named after John Lennon's Quarry Bank high school in England) and later as The Silver Beetles, the band whose members included John, Paul McCartney, and George Harrison formally changed their name to The Beatles in 1960, prior to a performance in Hamburg, Germany. The "new" group would affect sixties music and the history of rock n roll like no other.

The Temptations and The Beach Boys began their respective recording careers (1961).

For reasons not stated, the Beatles replaced Pete Best with a new drummer - Ringo Starr (1962).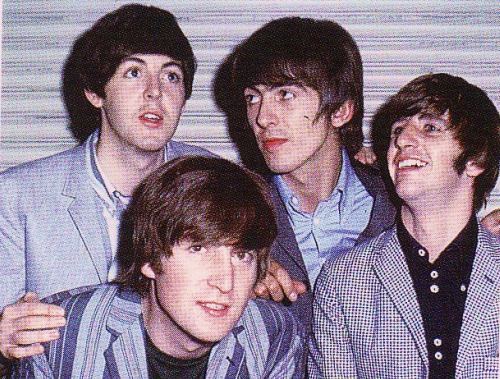 Ray Charles produced his Country Western album "Modern Sounds" (1962), which went to No. 2 album on CW charts and made the top 100 albums of all time.

Newcomer Bob Dylan (1962) got positive reviews for his first album.

The Beatles released their first album "Please Please Me" in Britain (1963). Beatlemania begins by the last week of December that year, changing sixties music forever as "I Want to Hold Your Hand" (side 1) and "I Saw Her Standing There" (side 2) sell a million copies in the US.

Originally written by Richard Berry (1955) and recorded by The Pharoahs (1957), "Louie Louie" made it big for the Kingsmen (1963).

At 13 years old, Little Stevie Wonder recorded his hit "Fingertips" (1963).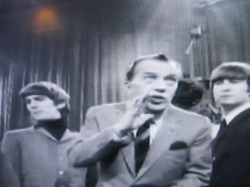 The Beatles kicked off the British invasion (1964) when 73 million people watched them perform on The Ed Sullivan Show (1964), and thereby changed sixties music forever. The Dave Clark Five, Herman's Hermits, The Animals, Chad & Jeremy, Petula Clark, and others followed shortly thereafter.

Davie Jones and the King Bees disbanded shortly after recording "I Can't Help Thinking About Me" (1964), and Davie Jones changed his name to David Bowie.

Heavy Metal became a part of sixties music when The Kinks release their first album containing their hit, "You Really Got Me" (1964).

After forming in 1959 and signing with Berry Gordy's Motown records in 1961, The Supremes started their string of a dozen No. 1 hits throughout the sixties with "Where Did Our Love Go" and "Baby Love" (1964).

The Rolling Stones released their first album by the same name (1964), and went on tour with Bobby Goldsboro and Bobby Vee. Their album was pure Rhythm & Blues, prompting other sixites music artists to mix R&B into their rock songs later in the sixties.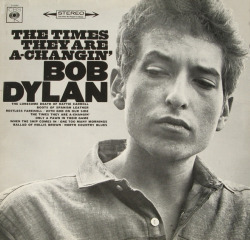 Bob Dylan marked the early stages of sixties music protest with his song and album titled, "The Times They Are A-Changin' " (1964).

Pete Seeger went ballistic at the Newport Jazz Festival (1965) when he performed "Maggie's Farm", to the boos of the crowd attending. The festival did give rise to the electrical guitar becoming part of sixties music, when played by Mike Broomfield supporting Bob Dylan's performance there.

The Warlocks opened the Fillmore Auditorium in San Francisco (1965), subsequently changing their name to The Grateful Dead, and giving a start to yet another component of sixties music: acid rock.

Sonny & Cher hit No. 1 with "I Got you Babe" (1965), and stir comparisons (from borrowing too much?) with Bob Dylan's "It Ain't Me Babe".

"Woolly Bully" by Sam the Sham & The Pharoes (1965) likely was the last "old school" rock 'n' roll hit recorded in sixties music.

Groups like The Mamas and The Papas took vocal harmonies in sixties music to the next level, simply by adding female voices to the mix (1966).

The Supremes became the first female group in the US to reach Billboard's No. 1 pop album with "A' Go-Go" (1966).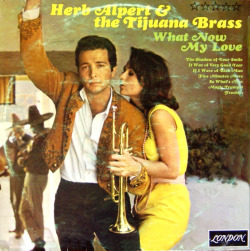 Herb Alpert made the Guinness Book of World Records (1966), having a record five albums making Billboard's pop album chart all at the same time. Alpert and the Tijuana Brass outsell the Beatles by a 2-1 margin that year.

"Hair" was the first rock musical and started a long run on Broadway (1968) after debuting off Broadway a year earlier. Spin-off hits included "Hair", "Good Morning Starshine" and "Aquarius".

Ed Sullivan censored The Rolling Stones performing "Let's Spend the Night Together" on his show (1967) by changing the lyrics to "let's spend some time together". Mick Jagger conceded to the change, but rolled his eyes for the camera each time he sang that phrase. Later that same year, Jagger and Keith Richards were jailed for a month on drug charges.

Glenn Campbell hit it big with "Gentle On My Mind" (1967).

The album "Wheels of Fire" by Cream (Eric Clapton, Jack Bruce, and Ginger Baker) reached a milestone in sixties music, becoming the first album ever to go platinum (1968).

Otis Redding and four of his band members died in a plane crash in Wisconsin, just three days after recording "Sitting At the Dock of the Bay" (1968).
The Woodstock Music and Art Festival anchored the entire decade of sixties music, after being held on a dairy farm in upstate New York (1969).

On the roof of their recording studio, The Beatles held their final live performance (1969). That same year, John Lennon married Yoko Ono, Paul McCartney married Linda Eastman, George and Patti Harrison were fined for marijuana possession, and Paul dispelled rumors that he was dead.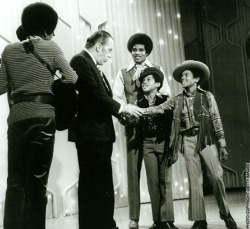 History of Rock n Roll