Music Trivia
Are you good at music trivia? Do you listen to oldies radio and sing along - when no one is around? Do some of those classic lyrics and melodies still buzz around in your head? Take our test and see how much music trivia you really know!
1. Which of the following is generally considered the first rock n roll song?
  a. "Rock Around the Clock" - Bill Haley and the Comets
   b. "Rocket 88" - Ike Turner
   c. "Heartbreak Hotel" - Elvis Presley
   d. "Bye Bye Love" - the Everly Brothers

2. Which of the following recording artists died in a small plane crash in Iowa on February 3, 1959 - later known as "the day the music died"?
   a. Richie Valens
   b. Buddy Holly
   c. J.P. "The Big Bopper" Richardson
   d. all of the above

3. Which artist recorded "All Shook Up" as a #1 hit in 1957?
   a. Roy Orbison
   b. Elvis Presley
   c. Johnny Cash
   d. Sam Cook

4. Which disc jockey is generally recognized for popularizing the term "rock n roll"?

   a. Wolfman Jack
   b. Sam Phillips
   c. Alan Freed
   d. Dick Clark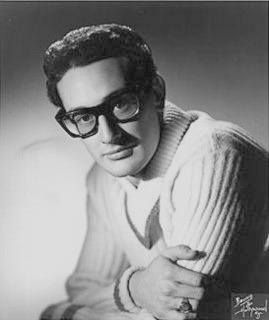 5. Which artist died in a plane crash just three days after recording the hit "Sitting At the Dock of the Bay"?

   a. Sam Cook
   b. Buddy Holly
   c. Bobby Vee
   d. Otis Redding

6. Billboard Magazine began its Hot 100 record singles popularity chart in 1958. What song was the first #1 ranked hit on this chart?

   a. "Poor Little Fool" - Ricky Nelson
   b. "Heartbreak Hotel" - Elvis Presley
   c. "At the Hop" - Danny and the Juniors
   d. "All I Have To Do Is Dream" - Everly Brothers

7. Which of the following singles by Elvis Presley was his first #1 hit?

   a. "Too Much"
   b. "Hound Dog"
   c. "Heartbreak Hotel"
   d. "Love Me Tender"

8. Which group produced an album in 1966 that outsold the Beatles by a 2 to 1 margin that year?

   a. Beach Boys
   b. The Mamas and the Papas
   c. Rolling Stones
   d. Herb Alpert and the Tijuana Brass

9. When the Rolling Stones performed their hit "Let's Spend the Night Together" on The Ed Sullivan Show, how did Ed Sullivan change the lyrics?
   a. "Lets spend some time together"
   b. "Lets spend the day together"
   c. "Lets spend our life together"
   d. "Lets have some fun together"

10. "Hair" was the first rock musical, debuting off Broadway in New York in 1967 and went on Broadway the following year. Which of the following hit singles was not a spin-off from this musical?

   a. "Hair"
   b. "California Dreamin'"
   c. "Good Morning Starshine"
   d. "Age of Aquarius"

11. What was the original name of the recording studio in Detroit before it was known as Motown Records?

   a. Capital Records
   b. Temple Records
   c. Gordon Records
   d. Tamla Records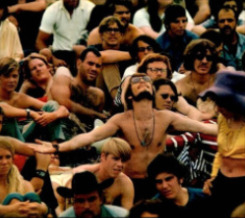 12. Where and when did Woodstock occur?
   a. southern Illinois in 1967
   b. southern Ohio in 1969
   c. eastern Pennsylvania in 1968
   d. upstate New York in 1969

13. What female singing group recorded the hit "Where Did Our Love Go?" in 1964?
   a. Shirelles
   b. Supremes
   c. Ruby and the Romantics
   d. Martha Reeves and the Vandellas

14. What popular Motown group recorded the hit single "Shadows of Love" in 1967?
   a. Temptations
   b. Spinners
   c. Four Tops
   d. Smokey Robinson and the Miracles

15. What popular song in the 50s popularized the phrase "rock 'n roll"?
   a. Rock Me Baby
   b. Cleveland Rocks
   c. Rock Around the Clock
   d. I Want to Rock

16. When he was 10 years old, which member of the pop rock band The Monkeys had played the role of Corky in the 50s TV series Circus Boy?

   a. Peter Tork
   b. Davy Jones
   c. Michael Nesmith
   d. Micky Dolenz

17. Before changing their name in 1960, the Beatles were originally known as:

   a. The Countrymen
   b. Sojourners
   c. Quarrymen
   d. Silver Crickets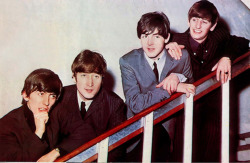 18. Who played drums for the Beatles before Ringo Starr?
   a. Peter Noonan
   b. John Mellancamp
   c. Pete Seeger
   d. Pete Best

19. What year did the Beatles first appear on the Ed Sullivan Show?
   a. 1962
   b. 1963
   c. 1964
   d. 1965

20. What year did Elvis get out of the army and resume his recording career?

   a. 1957
   b. 1958
   c. 1959
   d. 1960

Music Trivia - answers:
So, how good are you with music trivia?

 1b 2d 3b 4c 5d 6a 7c 8d 9a 10b 11d 12d 13b 14c 15c 16d 17c 18d 19c 20d
Music Trivia